March 4, 2016
For Immediate Release:
FAIRBANKS, AK — The Winter Bear Project, Southcentral Foundation and Drew's Foundation will present The Winter Bear, a play by former Alaska Writer Laureate Anne Hanley, in the communities of Nenana, Bethel, Aniak, Kalskag, Nikolai, and McGrath. Admission to all shows is free.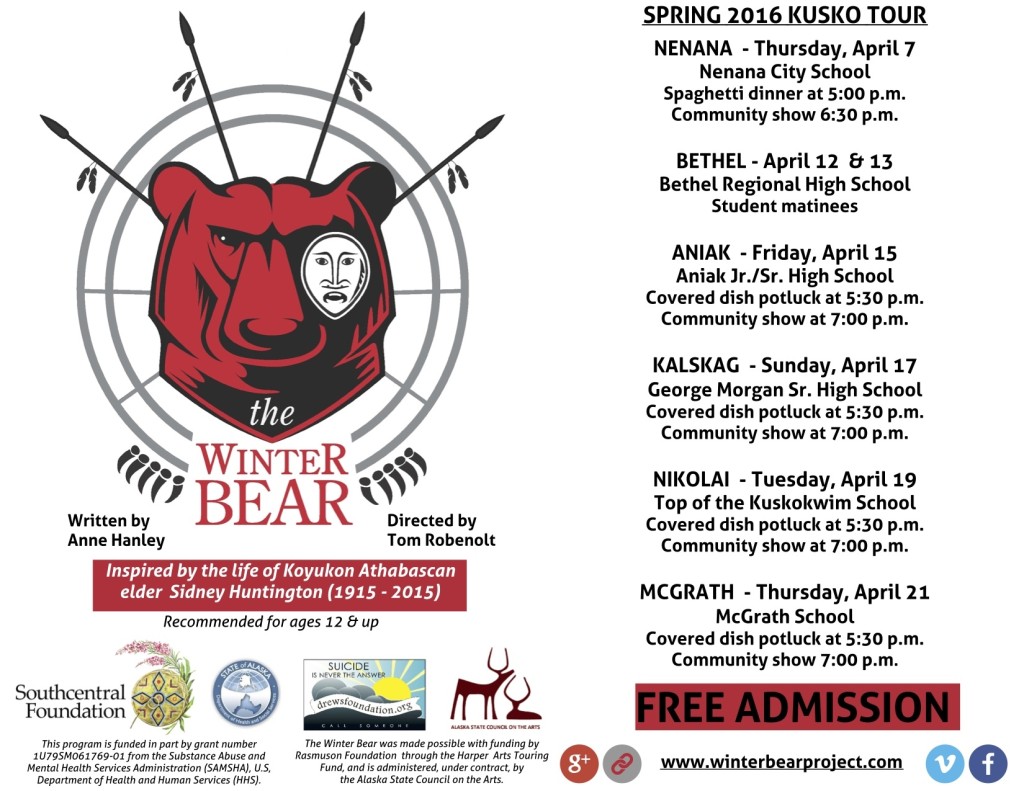 The play, which has been performed for enthusiastic audiences in 32 Alaska communities, tells the story of a troubled Alaska Native teenager who decides suicide is his best option until Athabascan elder Sidney Huntington shows him how to use traditional culture to work through his despair and find his true voice. The Winter Bear Project is built around the play, but it also provides school workshops in the performing arts and Behavioral Health support through its non-profit partners. The mission of The Winter Bear Project is to "change the climate of fear & hopelessness that breeds suicide by broadening awareness, stimulating dialogue, and promoting healing through the performing arts."
The show is directed by Tom Robenolt with Technical Direction by James Bartlett. The company features Alaska Native actors Brían Wescott as Sidney Huntington, Isaiah Juneby Potts as Duane, Misty Nickoli as Miranda Huntington, Jake Waid as Victor Sam, David Leslie as Wolverine, Aurora Lewis as Lynx, and Skyler Ray-Benson Davis as Wolf. Alaskan actor Jasmine Stokes plays Raven.
Major funding for The Winter Bear Project's 2016 Kusko Tour is provided by Southcentral Foundation and the Alaska Department of Health & Social Services. Other sponsors include: the Lower Kuskokwim School District, the Harper Arts Touring Fund, and Drew's Foundation. Communities are providing valuable in-kind in the form of lodging, show venues, and local services. Special thanks to in-kind sponsors Northern Air Cargo and Air/Land Transport, as well as airline partners Ryan Air, Pen Air, and Tanana Air.
**Click Here to download a pdf of the Flyer**
**Click here to download the press release**
This program was funded in part by grant number 1U79SM061769-01 from the Substance Abuse and Mental Health Services Administration (SAMHSA), U.S. Department of Health and Human Services (HHS).
The Winter Bear was made possible with funding by Rasmuson Foundation through the Harper Arts Touring Fund, and is administered, under contract, by 
the Alaska State Council on the Arts.
For more information about The Winter Bear Project, visit our website at www.winterbearproject.com or follow us on Facebook at The Winter Bear Project.